Tarpon Charters Provide:
√ fishing license
√ Life vests and safety equipment
√ Live bait and lures
√ Shimano equipment, tackle and hooks
√ Ice chest for fish
√ Ice chest with bottled water
Charter Rates
6 Hour Tarpon Trip – $1200
8 Hour Tarpon Trip – $1400
Price is for up to 3 people. $100 additional for a 4th person.
These charters are only for you and your guests.
Due to an increase in operational cost, Prices are subject to change.
Experience Ultimate Tarpon Fishing 
Tarpon Charters Offered April – July
Tarpon Fishing In Boca Grande
Boca Grande has been known as the Tarpon Capital of the World and anglers come to our area from across the US just to catch the "Silver King". A tarpon is highly sought after due to its impressive size and ability to fight for a long period of time. It can weigh up to 250 lbs. and measure 4 – 8 ft in length. Reeling in a tarpon is an exhilarating experience because they leap into the air and thrash around to fight a catch. It is an impressive sight to watch and beyond your wildest dreams actually reeling in this most prized battler. That is why we have anglers returning every year to land this treasured game fish.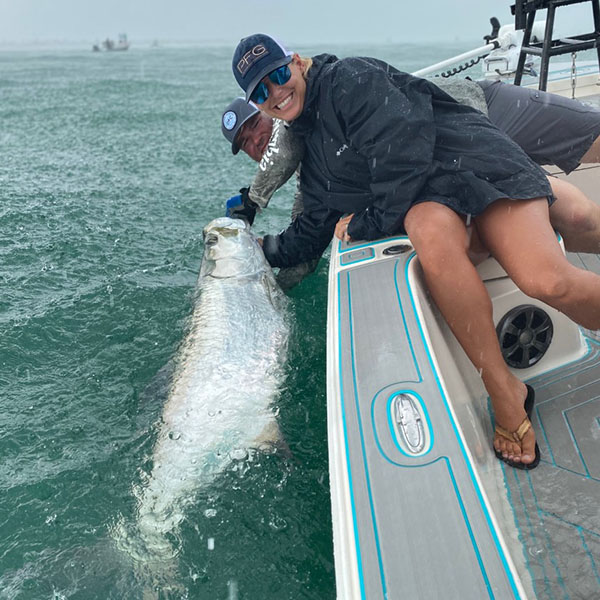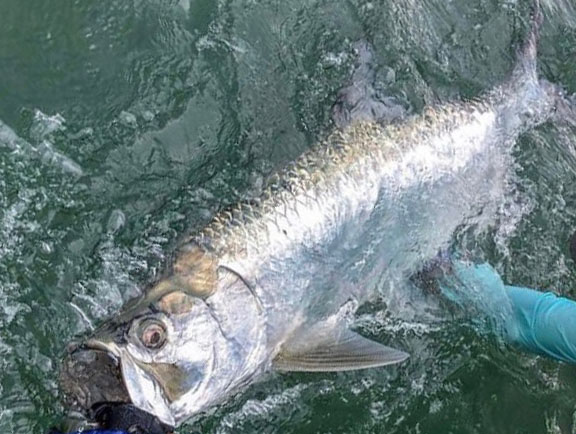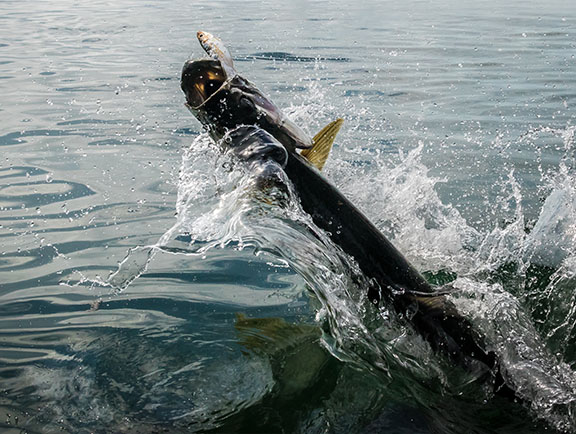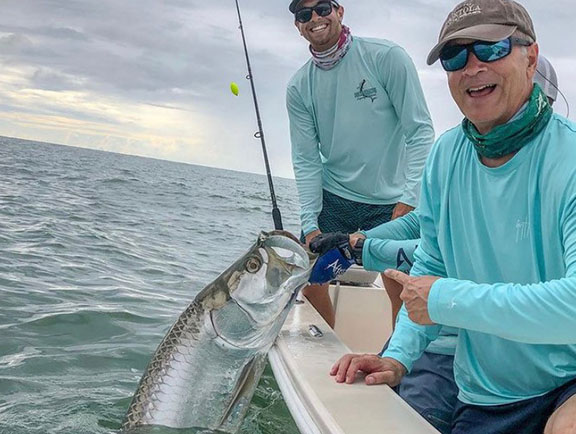 Improving Your Chances With The Help Of Captain Austin
Catching tarpon is difficult but one of the most exciting fishing adventures you can experience. It requires skill, patience and sheer determination. Captain Austin will take you to the best spots. Just as importantly, he will give you invaluable tips through his lifelong experience on catching tarpon in the waters he has fished his entire life.
Once hooked, the tarpon will thrash and that is where the real fun begins. Captain Austin will instruct you how to avoid a snapped line and when to raise your rod and start reeling. Rest assured you will be using the right equipment and line to combat the thrashing and jumping.
Captain Austin will be there to help you every step of the way; giving you the best opportunity to reel in the king of shallow waters.
Common questions asked specific to Tarpon charters
For general information concerning all charters, check out our FAQs
Where are the tarpon at Boca Grande?
Most congregate at Boca Grande Pass.
Is Tarpon fishing safe for a family?
Yes it is. Many families take the tarpon charters.
Can we keep the tarpon that we catch?
No, tarpon are catch and release only.
Can we take a picture with the tarpon we catch?
If the tarpon is less than 40 inches you can take a photo with a temporary lift from the water. All tarpon over 40 inches must remain in the water.
When is the best time to fish for Tarpon?
The best time is tide related. Hill tides are the best time to book.
How far in advance should I book a tarpon charter?
Call us as soon as possible. Because we have many anglers that come back for tarpon fishing every year, charters fill up fast. Many book as early as November for the following season, but you can always contact us to see if a time is available.
CONTACT US TO BOOK A FISHING CHARTER WITH CAPTAIN AUSTIN TODAY